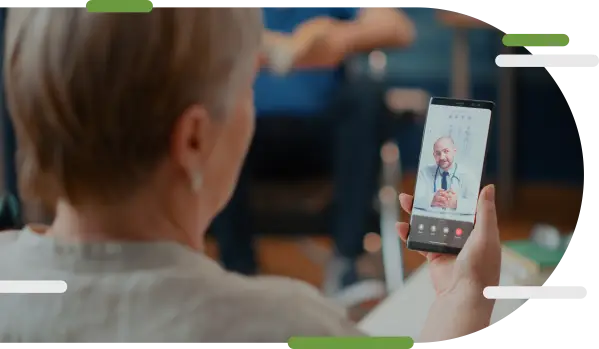 SECURE, COMPLIANT REMOTE PATIENT MONITORING (TELEHEALTH) SOFTWARE
Across the continuum of care, providers must be able to meet patients where they are. It's time to make care more accessible and possibly safer with a strong telehealth strategy. With MyAdultDayCare.com Virtual Care, telehealth is as easy as 1, 2, 3. Our SaaS-based software requires little effort to start scheduling and hosting visits. It's user-friendly, reliable and built by a team of healthcare experts, with the full patient journey in mind. Designed to easily connect with eligibility and software brings key care delivery functions into one place.
Create a stress-free experience for appointment setting and joining with a simple, easy-to-use interface. Supporting clinicians with relevant, timely patient details - informed by an industry-leading data set and over 20 years of healthcare excellence – MyAdultDayCare.com Virtual Care is the software you can trust to best compete with other providers and satisfy your patients. Our software have comprehensive HIPAA compliant Remote patient monitoring module as per the state guidelines, with ability to create templates for monitoring questionnaire, manage health-record with Electronic signatures, Remote monitoring reports and Billing.

INCREASE REVENUE
Create a new stream for your organization and keep all telehealth-related tasks organized for better claims management.

STAY COMPLAINT
Keep patient information secure at all times. Our telehealth platform is fully compliant with the Health Insurance Portability and Accountability Act (HIPAA).

IMPROVE STAFF EFFICIENCY
Bring every step of a digital visit including managing schedules, sending patient reminders and hosting appointments into one place.

ELIMINATE WORKFLOW SILOS
Trust MyAdultdaycare to support all your key care functions for both online and in-person appointments, from eligibility to patient payment.
Best Adult Daycare Software - Simple, Easy & Effective

GDPR & HIPAA - Compliant

100% Secure

Desktop, Android & IOS Compatibility

Cloud Based

Integrated CRM

24X7 Support

Online Training Sessions

Family Portal